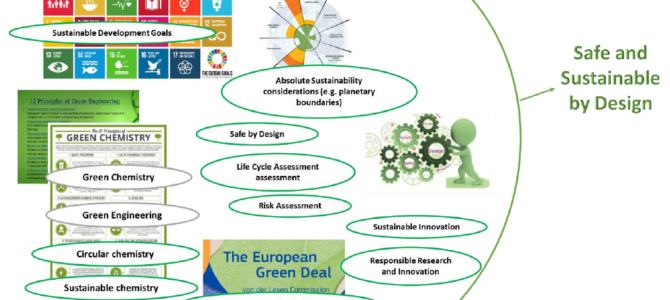 SSdB – JRC Technical Report published – Safe and sustainable by design chemicals and materials – Framework for the definition of criteria and evaluation procedure for chemicals and materials.
The EU Chemicals Strategy for Sustainability (CSS) action plan foresees the development of a framework to define safe and sustainable by design (SSbD) criteria for chemicals and materials.
The SSbD is an approach to support the design, development, production and use of chemicals and materials that focuses on providing a desirable function (or service), while avoiding or minimising harmful impacts to human health and the environment.
The SSbD concept integrates aspects for the domain of safety, circularity and functionality of chemicals and materials, with sustainability consideration throughout their lifecycle, minimising their environmental footprint. SSbD aims at facilitating the industrial transition towards a safe, zero pollution, climate-neutral and resource-efficient economy, addressing adverse effects on humans, ecosystems and biodiversity from a lifecycle perspective.
Full Report – JRC Publications Repository: JRC Publications Repository – Safe and sustainable by design chemicals and materials – Framework for the definition of criteria and evaluation procedure for chemicals and materials (europa.eu)
Ekotox Centers Chemicals Management webpages: https://ekotox.eu/chemicals-management/