The Community rolling action plan (CoRAP) update for the years 2022–2024 lists 27 substances suspected of posing a risk to human health or the environment, for evaluation by 10 Member State competent authorities, under the substance evaluation process of the REACH Regulation (EC) No 1907/2006 (Articles 44 to 48).
The plan contains two newly allocated substances and 25 substances already included in the previous CoRAP 2021-2023 update, published on 17 March 2021.
For 20 out of these 25 substances the evaluation year has been postponed, mainly to await submission of new information.
Between others Propyl acetate, Diethyl Ether, Carbon black or Benzaldehyde are in recent revised CoRAP while Benzyl salicylate or Xylene were withdrawn.
The full list link: https://echa.europa.eu/documents/10162/879660/corap_update_2022-2024_en.pdf/13898cd4-e4ce-4448-fe7a-0e5027156043?t=1647951716519&utm_medium=email&utm_campaign=weekly&utm_content=20210323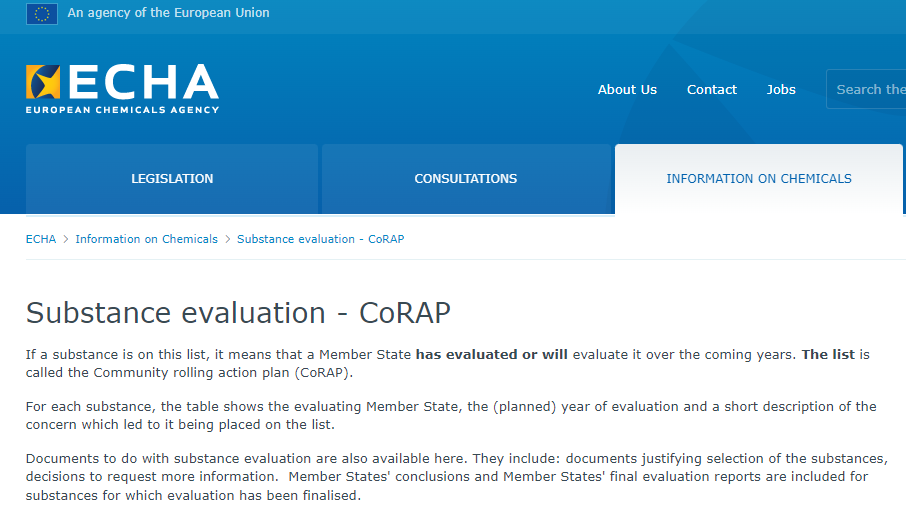 Ekotox Chemicals Management webpages: https://ekotox.eu/chemicals-management/